MMBSY FW20 KICK-OFF DAYS
Curious about what our brands have to offer this FW20 season? Learn all about it in our e-zine, Edit 01!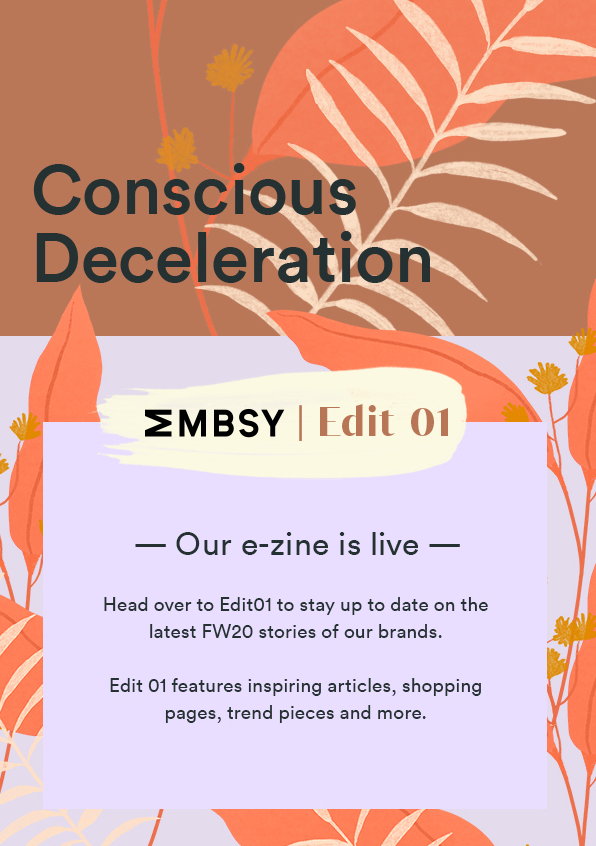 ENTER THE WORLD OF MMBSY
To keep you inspired and updated about our latest FW20 brand stories we created 'Edit 01'. A digital collection of all the new stories transformed into inspiring articles, shopping pages, trend pieces and more.
How to sign in?
Step 1: head over to our Edit 01 through following link: https://edit01.mmbsy.com
Step 2: sign in with your email address as username and Edit01 as pasword
Step 3: enjoy reading our e-zine!
THEME: CONSCIOUS DECELERATION
Almost the entire world is affected by the Covid-19 virus. Everyone is advised to stay at home as much as possible. This current situation creates a moment for people to reflect and slow down. As a PR and communications agency we feel it is our duty to stay ahead of all trends and innovations. Therefore we will be focusing on the latest social trend: Conscious Deceleration in our e-zine. A countermovement on our current fast-paced life mentality.
If you have any further questions about our brands or stories, don't hesitate to contact us.
Dorothée Marcus Showroom & PR Manager, MMBSY